Putah Creek Fly Fishing Guide Richard Loft of Napa Valley Fly Fishing Guides offers Putah Creek fly fishing trips and fly fishing instruction on Putah Creek and the Yuba River.
Read or Leave a Review! Trip Advisor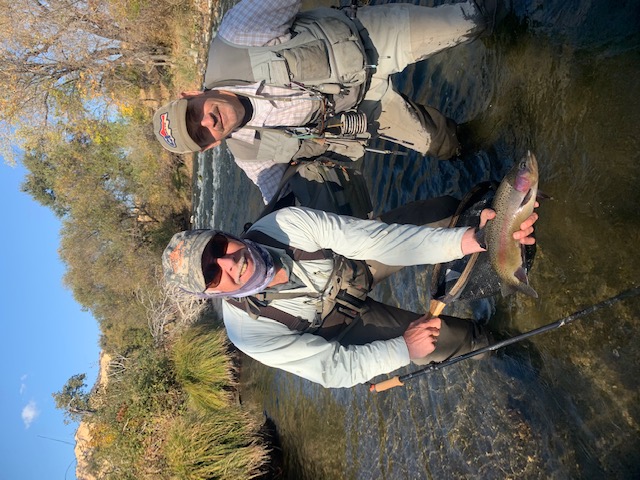 We are a small independent Fly-Fishing Guide Service and Fishing Charter; started on August 14, 2013. Richard and colleagues are all licensed Fly-Fishing Guides, who take locals and tourists, beginners and experienced, on guided fly fishing trips on local, Northern California rivers. These locations include: Putah Creek near Napa Valley's Wine Country, the Lower Fork of the Yuba River in Old Gold Country's Marysville, shad on the American in April and May, and other rivers upon request.

Putah Creek is Richard's speciality. It is a tailwater; just below Lake Berryessa; a 4.5 mile stretch of clean, cold fresh water for the now native Rainbow Trout in the recently designated, Snow Mountain Lake Berryessa National Monument. Richard has partnered with Putah Creek Trout and the Heritage Wild Trout Program since 2008 to be a steward of this Northern California river by doing annual California Coastal Clean-Ups, and Putah Creek Surveys and Habitat Restoration on a regular basis.
Half day (4-5 hours) for 1 or 2 persons - $400
Full day (7-8 hours) for 1 or 2 persons - $550.
Includes rod, reel, waders and flys for use.
Casting clinics available.
Important Notes:
Fly Fishing involves Catch-and-Release Method.
Optimized locations on the Putah Creek, the Yuba River, and the American River have been selected by Richard.
Day fishing licenses must be procured by customer at https://www.wildlife.ca.gov/Licensing/Online-Sales.
Fly Fishing Lessons
Fly Fishing Lessons - Richard is happy to teach an on the river "Intro to Fly Fishing" class for those beginners or enthusiasts who want basic fly fishing lessons. Please call or email if interested.
Film and Photo Shoots

Other Services Offered 
Casting Lessons 1 and 2 lessons $75.00 per hour.
Presentations for clubs
Gift Certificates


Deposit and Cancellation Policy
Upon confirmation of a fishing date, the client will deposit one half of the fee with Napa Valley Fly Guides (NVFG) via a check or Paypal.

  Any trip cancelled less than seven days from the reserved date will be charged one half of the total fee. If a reservation is made less than seven days before the date of the trip, one half of the total fee will be charged if cancelled less than three days before the trip.
   
If a trip is cancelled due to weather or other reason by NVFG, your full deposit will be refunded.